USA Verified PayPal Account Personal and Business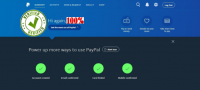 Details:
We offering one of the best services in the Market.
100% Verified USA Paypal Account
These accounts are Verified by- VCC (Virtual Credit Card) + Phone  Verified (Google Voice)+ Bank (Virtual Bank)  + SSN (Social Security Number) and USA Valid Address Verification.
Verified Country:  United State

Verified by: VCC (Virtual Card Verify)

Verified by: VBA (Virtual Bank Verify)

Verified Phone: US Phone Number (Google Voice)

Verified Address: US (Real Address)

Account Type: Personal/Business

Email Type: Any type of valid mail

You will get PayPal Login ID & Password, US phone access, name, address, date of birth, card details, bank details.

We don't provide any documents/ statement/ scan copy.

Read Carefully Terms & Condition number 18.2 before making the order.
⇒ USA Verified Personal Account
⇒ USA Verified Business Account
N.B.

 Replacement time 24 hours don't allow money-back guarantee
IMPORTANT: You need to use the dedicated IP address to avoid limited access on your account, you can use a remote desktop or dedicated VPN, make sure the VPN provides single IP every time you connect to your VPN.
Delivery Time: 24-48 hrs